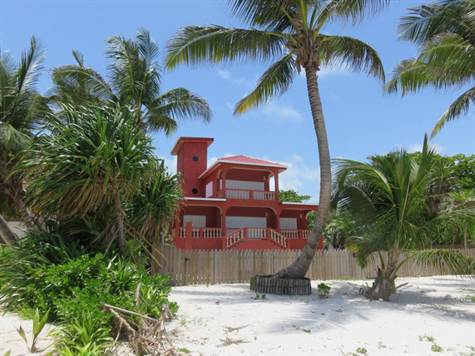 Premium real estate opportunities today in Belize
Real estate offers today in Belize by Remax: The Location & Climate: There are many reasons people are drawn to Belize, but most of all they are drawn to the tropical climate and the vibrant culture. Belize is also very accessible from the US & Canada. Belize is one of the top emerging destinations in the Caribbean & Central America Region. RE/MAX Belize is one of the leading Belize real estate experts. With over 100 agents and offices country-wide. If you are looking to own or invest in Belize Real Estate trust the team at RE/MAX Belize. Nobody in the world sells more real estate than RE/MAX! See additional details at Remax Belize.
Real estate transactions in Belize are in US dollars and use a US escrow agent or account (a US account or US intermediary is needed for any transaction in USD). The closing costs are paid by the buyer. The seller is responsible for the real estate fee and commission. All money is sent to a US escrow and a closing company releases funds upon closing. When an offer or sales agreement is submitted a down payment for escrow is required. If it's a cash sale, it will be the entire balance on the property which will go to escrow during the closing process. If it is a financing agreement, the down payment (20% to 25%) will be sent to escrow during the closing process.
Property taxes in Belize are paid annually in April and are to be paid each year. Property taxes in Belize for land and real estate are assessed and determined by the Department of Natural Resources. Belize is a low-tax jurisdiction and the property taxes in Belize are some of the lowest of any of the Commonwealth countries. Property taxes in Belize are almost unbelievably low for most off-shore owners and investors. When buying a property in Belize Belizeans pay 5% of the purchase price in Stamp Duty or Transfer Tax to the Government of Belize. Foreigners and non-nationals pay an 8% Stamp Duty or Transfer Tax to the Government of Belize when buying real estate or property in Belize. This is why so many foreign owners and investors purchase Belize real estate in an IBC. When you buy real estate in Belize that is in an IBC there is no stamp or transfer tax. Learn more about owning Belize property in an IBC.
The Mountain Pine Ridge Forest Reserve offers a soothing contrast to the tropical humidity of the coast. The higher elevation here keeps daytime temperatures cool and offers a welcome respite from mosquitoes. Hiking among the pine forests, visitors can explore cool gushing rivers, waterfalls, pools, and caves, although in recent years, the pine beetle has devastated many of the trees. One of the top attractions within the reserve is the Río Frio Cave & Nature Trail, once used by the Maya as burial grounds. A river runs through the center of the cave. At the Five Sister Falls, five cascades spill into a beautiful pool. For a refreshing dip head to Río On Pools where small waterfalls connect a series of pools carved from granite boulders. The slabs of rock are great for basking in the sun after a swim. Also called Hidden Falls, Thousand Foot Falls are surrounded by hiking trails. Visitors can enjoy beautiful views of the area from the observation platform here.
Belize attractions and climate makes buying a property here a tempting thought. Imagine living permanently there… the joy. The most developed spot is Ambergris Caye, which is the largest Island. Properties on the beachfront can be found for affordable prices starting $290,000. You can find even cheaper prices a short distance from the beachfront. For example, $199,000 will get you a two-bedroom, one-bath condo on 750-square-feet. If you are looking for good value real estate, Belize is the place to buy. If you are looking to buy land to develop on or hold out for property appreciation there are a number of options for affordable real estate in Belize, for more information about Belize property prices and the affordability of buying and living in Belize contact Will Mitchell at REMAX Belize Secret Beach.
Do I Require a Visa to Travel to Belize? There is no Visa or Travel Visa required when traveling to Belize. When you enter Belize (by air, land, or sea) you are issued a tourist visa for 30 days. You can renew this visa every month at a local immigration office. Some countries have a maximum of 30 days without a visa and no visa is required for Belize travel. Please keep in mind that while a visa is not required, travelers to Belize must have: Hold a valid passport that is still valid for at least six months on entry; the passport must have one blank visa page; hold proof of onward/return flights; Hold all documents required for the next destination (if you are connecting to somewhere else); You may be asked for proof of sufficient funds relative to your intended length of stay.
There are a lot of opportunities in Belize and a diverse real estate market. In Belize, we do not have a formal MLS, so a real estate agent's job is a little different. If you are looking at buying or investing in Belize, a Remax Belize real estate agent can help with the search. After the Belize real estate search, and once you find the property you want to purchase, the next step is to put in an offer or draft up an agreement of sale. The real estate agent will require your full name and address to be able to draft up the agreement/offer.
Since first coming to Belize in 2015, Dustin has watched the country grow substantially over a short period of time. Being part of that growth and having an impact on the community has been one of the true joys of working in Belize. Dustin & Will have won numerous personal and team awards with RE/MAX and within Belize. Dustin's in-depth market knowledge has propelled his real estate career in Belize. Working with hundreds of clients from around the world with buying property in Belize and securing off-shore investments. Read extra details on https://remaxbelizerealestate.com/.